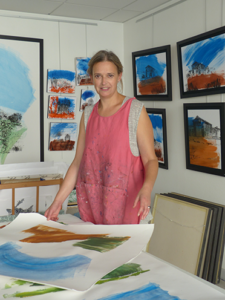 As an infant Claire loved the smell of the oil paints in her uncle's workshop and studio in Paris, where he was a restorer of original art works. She always had paintings around her as her great grand-father Charles Audierne was a painter, he is listed in the Bénézit ( a dictionary of the XXIXth century painters). As a teenager, Claire attended the lessons of the painter Monique Delattre for 3 years, from 1985 till 1988, in addition to her college art studies.
After her course at the university of Bordeaux for teaching arts, Claire created in 1995 an art studio for an association in Castillon-la-Bataille (Gironde) while teaching at schools (College-secondary schools).
She took part in a few exhibitions with other artists of the region, and on her own in chais and châteaux in the
Bordeaux région and galleries in Mont de Marsan, St Emilion, Bordeaux and Brussels.
From 2003 to 2017, Claire has been in charge of the Visual Identity Image and communication for a firm called RAL-DIAGNOSTICS (medical diagnostic) as well as teaching at the Amical'Artist for 17 years in Castillon and carried on with her own paintings.
In Spring 2017 she finished with her job for RAL to start a new studio in Pellegrue and dedicate herself to painting exclusively. At this moment she changed her artist name for Claire Scofield.